Little angels shine At JAG 2015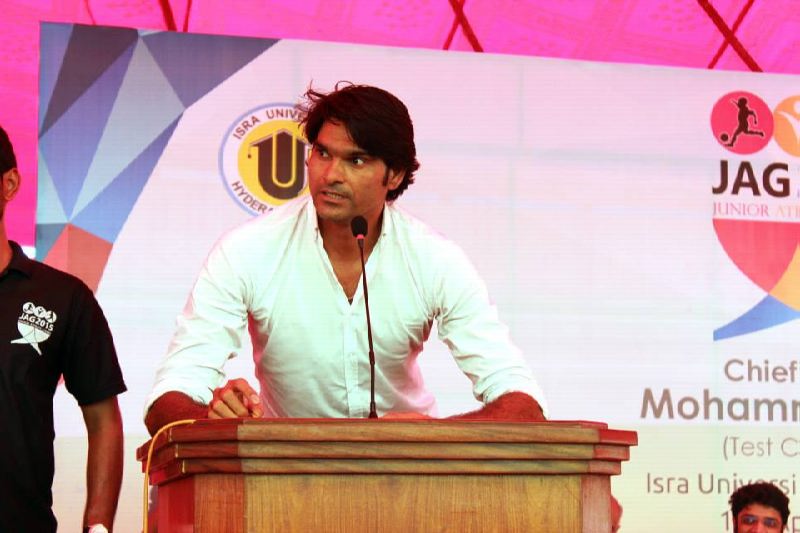 "I see many future Muhammad Irfan here amongst us today, the energy and zeal of these children has left me speechless," said the notable test cricketer of Pakistan, Muhammad Irfan while acting as the chief guest at the 'Junior Athlete Games – JAG 2015' held on 15 April at Isra University, Hyderabad as a result of the commendable efforts of Isra Social Welfare Society (ISWS).
At the culmination of the competition, the chief guest, Muhammad Irfan congratulated all the children and distributed different prizes among them. He also added, "Winning or losing is a part of game, but what sets you apart from others is your courage to face defeat and your persistence to maintain your victory. You all are winners for me and I wish you all the very best of luck!" The prize distribution ceremony was followed by the vote of thanks by the President of Isra Social Welfare Society, Mr. Ebbad Qureshi who lauded the efforts of the entire team for making the event a huge success.
Mr. Hamza Mallah, General Secretary, Isra Social Welfare Society while inaugurating the event brought the entire ground to life by gallantly hitting a ball from the test cricketer and welcomed the dignitaries and students attending it. Following the inauguration, the kids marched into the ground in the form of groups carrying their respective group flags. Over 100 children participated in different sporting categories and showcased their abilities in front of a massive crowd gathered to extend their support to the children.
Finally, Prof. Dr. Hameedullah Kazi, Pro-Vice Chancellor Isra University, and Chairman, Isra Social Welfare Society adorned the chief guest with Sindhi Topi & Ajrak and expressed his gratitude to Muhammad Irfan for sparing time for these children.
This sports event was organized for kids living an underprivileged life in orphanages like SOS Village, Jamshoro and Dar-ul-Atfal, Hyderabad to give them an opportunity to bring out their inner athletes. The event consisted of different sporting competitions including, racing, jumping, Tug of War, and cricket match to promote their sporting skills while boosting their confidence.
Access Token not set. You can generate Access Tokens for your Page or Profile on fb.srizon.com. After generating the access token, insert it on the backend
burst_total_pageviews_count:

14