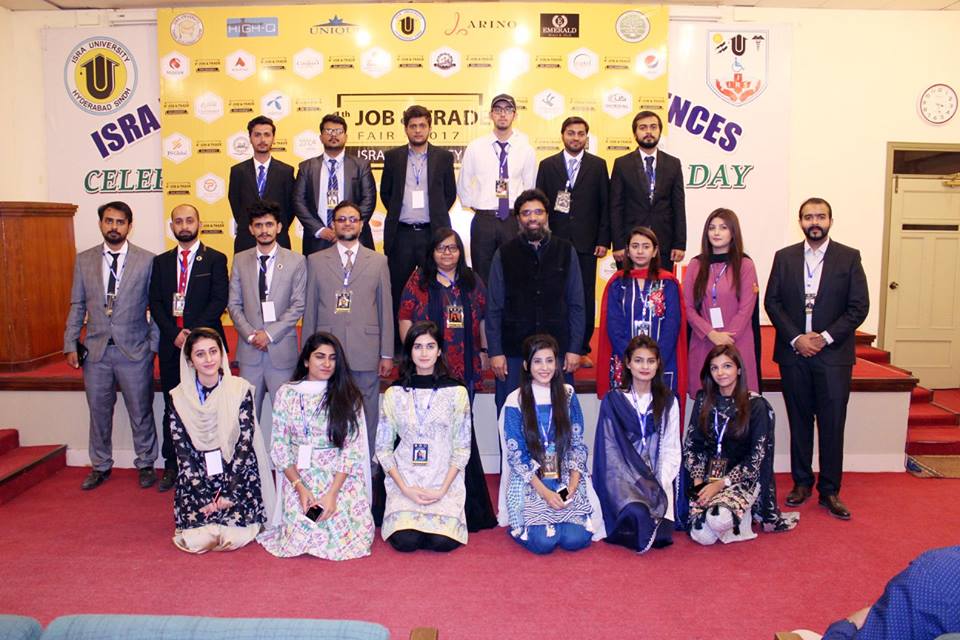 4th Job & Trade Fair 2017
Career Development Center (CDC) under the Office of Research, Innovation & Commercialization (ORIC) organized 4th Job & Trade Fair 2017 at Isra University, Hyderabad. The event was held on Thursday, 16th November 2017 where more than 60 companies from various sectors including; banking, insurance, pharmaceutical, construction, manufacturing, food, software & IT, engineering, telecommunication and others participated.
The event was sponsored by Unique Motors, HighQ Pharmaceutical, Arino, Emerald Hotels, PakTech Limited, Crystal Springs Water and Tapal Tea. The Objective of the event was to provide employment opportunities to the youth and community. More than 2500 graduates & students seeking jobs & internships respectively from different universities and institutes
The event was inaugurated by Ms. Jehan Ara, President of the Pakistan Software Houses Association. She visited all the stalls placed by companies offering jobs & internships and interacted with students. She encouraged the happening of such events for the development of community. Prof. Dr. Hameedullah Kazi, Pro-Vice Chancellor, Isra University Hyderabad thanked all the companies, sponsors and stake holders for the successful accomplishment of the event. The organizing team included; Mr. Zafar A. Siddiqui, Ms. Wafa Pathan, Mr. Ahsan Ansari, Mr. Muazam Memon, Ms. Donia Bughio, Mr. Ebbad Qureshi & Mr. Hunain Ansari.
burst_total_pageviews_count:

6