14th Bi-Annual International Conference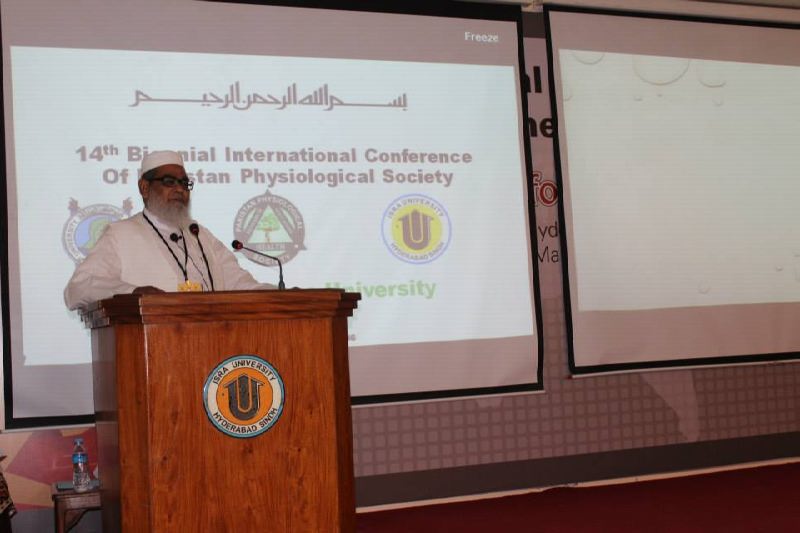 14th Biennial International Conference of Pakistan Physiological Society on Physiology in Health Care was held on 27th to 29 th March 2015 at Sindh University Jamshoro Campus and Isra University Hyderabad Campus it was sponsored by Isra University and Higher Education Commission the chairman Organizing Committee was Prof. Ali Muhammad Soomro while Vice Chancellor Isra University Prof. Ghulamqadir Kazi and Prof. Abida Tahirani Vice Chancellor Sindh University were patrons. The President of Pakistan Physiology Society Prof. Taj Muhammad Khan and Prof. Umar Ali Khan Pro. Vice Chancellor Isra University Islamabad Campus were chief guests in Inauguration session held at Shaikh Ayaz Auditorium Sindh University Jamshoro.
The concluding Session was held at Asadullah Kazi Auditorium Isra University Hyderabad in which the the chief guest president of Pakistan Medical and Dental Council Prof. Massod Hameed Khan was said that ulogised the services of Isra University in education and health field He further mentioned that Continuing Medical Education is now mandatory for registration of doctors with PMDC for rural doctors and general Medical Practitioners he urged the Vice Chancellor Prof. Ghulamqadir Kazi to initiate CME sessions as per PMDC laid down criteria at Isra Hyderabad and all other Campuses without delay. He thanked and congratulated Pakistan Physiological Society for holding regular conferences to update the doctors on latest and cutting age information and research in Physiology.
Over 500 doctors from Pakistan and other countries attended conference Prof Ghulamqadir Kazi Vice Chancellor Isra appreciated the efforts of Pakistan Physiological Society for organizing a successful conference of physiology field which is considered as vital field for basic and clinical medical sciences. Prof. Umer Ali khan spoke on physiology in Health care and liked it to public health issues to past, present and future. Prof. Dr Arif Siddiqui gave presentation on curriculum of physiology and stressed medical teachers training in curriculum field. Prof Saadat Ali Khan gave lecture on Olfaction; A mysterious human behavior. Prof. HR Ahmed talked on cardio protection and speaker from AKU Dr. Rehana Rehman talked on different methodologies used for teaching physiology.
Two workshops one on writing research grant proposal and other on Medical writing was held at Isra University. Plenary sessions, free papers, poster exhibition and workshops on physiology were held. Life time achievement Award was given to Prof. Din Muhammad Shaikh for his services to physiology field by Prof. Massod Hameed Khan. Dr. Naveed Kazi and Dr. Zulfiqar leghari were secretaries of the conference. In election meeting Dr. Ali Muhammad Soomro was elected as new president of Pakistan Physiological Society.
Access Token not set. You can generate Access Tokens for your Page or Profile on fb.srizon.com. After generating the access token, insert it on the backend
burst_total_pageviews_count:

33