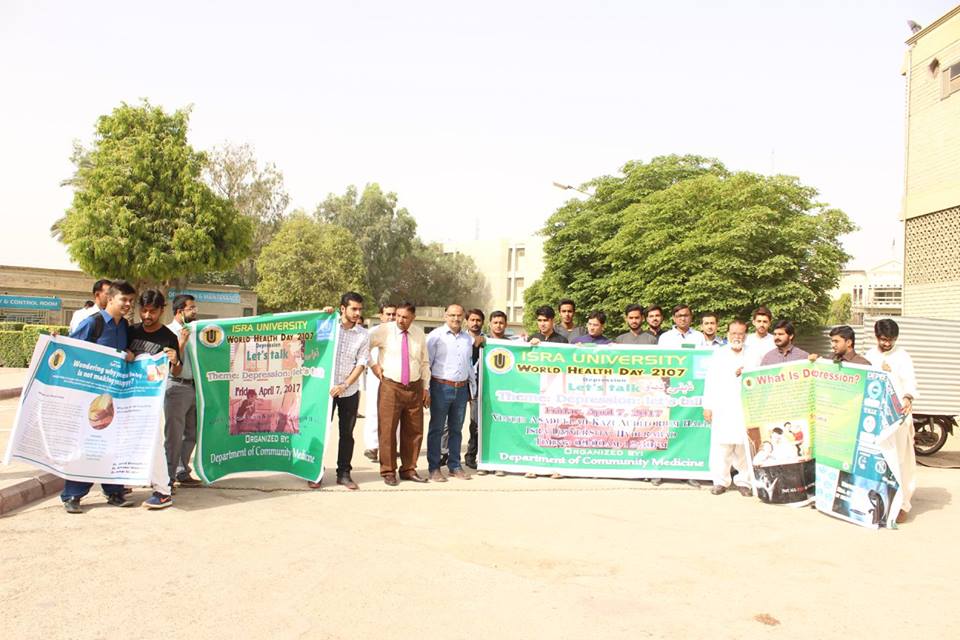 World health day was observed at Isra University Hyderabad
World health day was observed on the theme of depression let's talk at Isra University, Hyderabad campus.
Prof AG Kazi, Pro VC Isra University and director Isra Hospital was chief guest. While video message of Dr Mahmoud Fikri, WHO regional director (EMRO) was broadcasted. Dr Khalid Hussain Laghari, Health System Strengthening Officer also briefed about WHO activities and made a presentation on depression
Dr Mahmoud Fikri in the message stressed on community participation and to increase family care for depression and mental health persons. At present, globally 300 million people are affected by depression and other mental health issues in Pakistan and developing countries, government, media and civil society can join in efforts to reduce the burden of depression.
Dr AG kazi assured highest cooperation from Isra University and its medical Faculty and students with WHO. Prof Hussain Bux Kolachi while speaking in the world health day gathering, highlighted that 80,0000 Depression patients are in Pakistan, which is a large number. We have about 5000 beds for psychiatric patients (3000 in public and 2000 private). About 300 trained psychiatrist are available in country even HMIS of Pakistan is not mentioning mental illnesses as one of priority health problem. It is an emergency like situation but awareness in this regard is lacking.
Prof Shafi Mohammad Jatoi talked about depression and Islamic way of addressing this problem where expectations should not be controlling the life of muslins but we should be contended with whatever is available and what is achievable.
Dr Manzoor Jamali, Head of Dept psychiatry IU, told that depression is preventable and psychiatrist role is central. He mentioned that among students of Lahore in his research work, 37% had depressive mood or illness at one point of their academic career.
The invited guest speakers, Brigadier Khadim Hussain Jatoi, director medical services five corps Karachi appreciated Isra University efforts to organize such international health day. He suggested medical and non-medical measures for prevention and treatment of depression. Especially religious leaders can focus on such community health issues in their religious sermons. This will help to reduce the load of stress and depression.
Lieutenant Colonel Ramzan, psychiatrist CMH Hyderabad elaborated the causes of depression in Pakistan like security, joblessness and lack of accessibility to mental health services especially at rural areas.
The students presented their views in debate that only organized change and involvement of youth in Pakistan will solve mental and other chronic and acute health problems.
The highlight of speech was Sahel Bughio, who is IBA student in Sindh University and physically challenged by birth with his only working leg. He started his education at primary level and learnt writing, reading and now is a university third year BBA student. He demonstrated his writing skills, laptop using skills, mobile and face book use to the audience and got standing ovation from hall. In his concluding words he thanked Allah who has given him strength as he is living a normal and productive life. And depression is no more phenomenon near him. He was proud of his achievements. At the end world health day participants, speakers were given shields, certificates, cash prizes by Dr AG Kazi.
Stage secretaries were Dr Irum and Dr Ambreen, supported by team of department of Community Medicine (Dr Ghulam Hussain Baloch, Dr Bilal and Dr Sanam) and Dr Sagar.
Dr Salman Kazi in his vote of thanks appreciated the efforts of department of community medicine which has organized this fourth event with full participation of students, faculty.
Students Dr Jawad, Dr Fawad, Azhar, Kainat, Ruqqyia, Lubna, Maham were given prizes for poster.
In debate prizes were given to Dr Bhagwanti, Tanzeela, Fawad, Ruqqyia and Kianat Mari.
The judges' team was led by Prof Mumtaz Qureshi and accompanied by Rafia Lt. Col. Dr Ramzan.
Dr G Hussain Baloch, Dr This was fourth world health day in Isra university, attended by over 300 medical, nursing students and civil society, professors Asif Burney, Raheem Memon, Sajjad Kazi, Shahnawaz Dal . World Health Day walk led by led by Dr Khalid Laghari, Professor Mumtaz Qureshi and Professor HB Kolachi started from campus gate to the auditorium on April 6th Poster session was inaugurated by Dr Khalid laghari in the presences of Dr Salman Farsi Kazi ,professor Mumtaz Qureshi . The poster presenters were appreciated for their participation .The cooperation of Dr.Sara salman WHO office Sindh, Dr Javed Alam, country representative Assai Aradakani WR for Pakistan, EMRO communication officer.