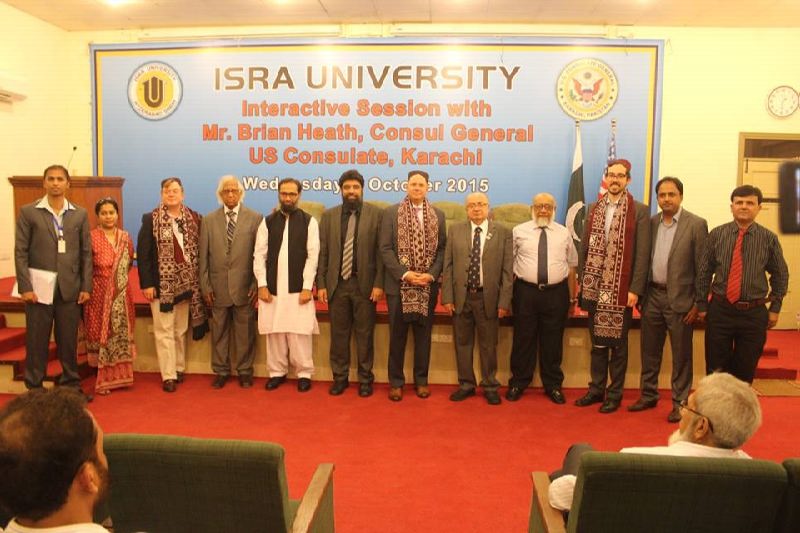 US Consul General Visits Isra University, Hyderabad
Mr. Brain Heath, US Consulate General, Karachi visited Isra University, Hyderabad on Wednesday, 7th October, 2015. The visit was observed with the reference to three years successful partnership of Isra University, Hyderabad with the Ball State University, US. The Partnership aimed to build the capacity of the Department of Management Sciences at Isra University in academia, research and business outreach. He was accompanied by Mr. J.T. Kennedy, Political Economic Officer, Mr. Brian Asmus, Information Officer and Shawn Gray, Security Officer.
All the delegates were welcomed by Prof. Dr. Asadullah Kazi, Chancellor, Dr. Abdul Ghani Kazi, Pro-Vice Chancellor, Prof. Dr. Hameedullah Kazi Pro-Vice Chancellor (Engineering & Management Sciences), and Dr. Ahmed Waliullah Kazi, Pro-Vice Chancellor (Admin).
Mr. Heath was very pleased with the partnership with Ball State University and hoped that this collaboration will go a long way in many more areas to enhance knowledge and development of the academia.
The delegation then proceeded with the campus tour accompanied by the dignitaries from the US Consulate General, and Faculty Members and Officers of Isra University.
An interactive session was held with faculty and students, where Mr. Brain Heath told that the "studying in the United States will be a life-changing experience. We hope you was learn as much from your American counterparts as they have learn from you". Study abroad programs connect Pakistani people with American people to promote dialogue and find common ground. He informed about the international program of study in the United States to maximize the takeaways from such potentially life-changing experiences. The sessions are designed to help ensure that Pakistani students fully benefit from their travel and study abroad experience. Session covered include travel documentation, campus life, academics, U.S. society and culture.
Following his address the session was opened for questions and answers. The session was based on the reflection of partnership based project and future strategies.
The Chancellor Prof. Dr. Asadullah Kazi and Pro-Vice Chancellor, Prof. Dr. Hameedullah Kazi presented cultural souvenirs to the delegation and also expressed their profound gratitude to the delegation and anticipated that frequent exchanges and visits will not only be instrumental in strengthening the ties but will also expose the academic partners to diverse collaborative avenues. Afterward, delegation was thanked by Chairperson Department of Management Sciences Dr. Qamaruddin Mahar.