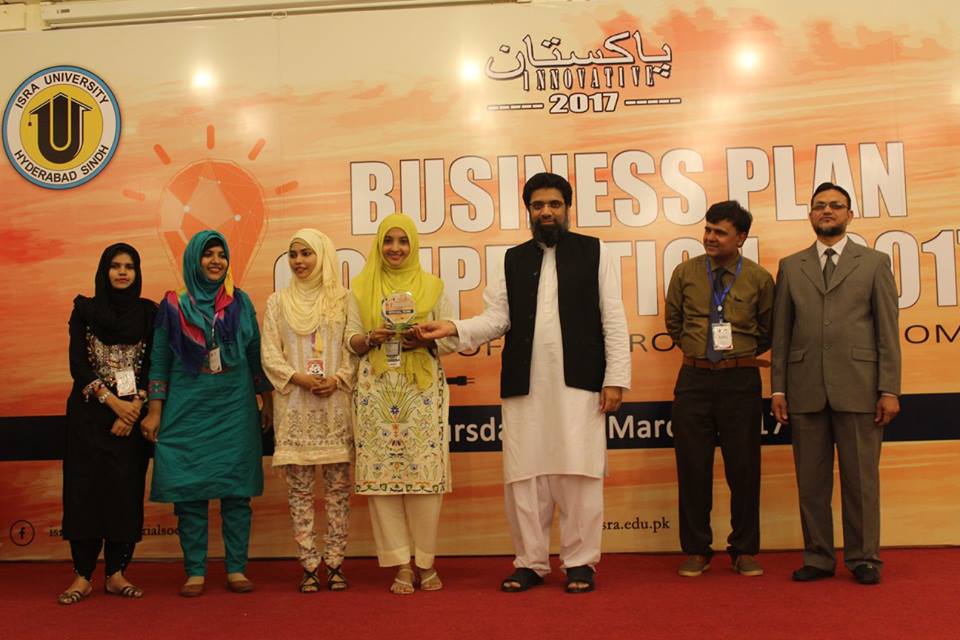 Innovative Pakistan Business Plan Competition 2017
Isra Entrepreneurial Society (IES) and Ball State University, USA organized an Innovative Pakistan Business Plan Competition 2017 with collaborative efforts. Event was placed on 30th March, 2017 in Asadullah Kazi Auditorium, Isra University, Hyderabad. The objective of this competition was to brainstorm investment ideas that may contribute in economic growth and development of Pakistan. It was based on inter institute business plan competition for academic institutes and universities of Pakistan.
The organizing team of Isra University was comprised on Prof. Dr. Hameedullah Kazi, Dr. Qamarudin Mahar, Mr. Zafar Sidiqui, Mr. Riaz Ahmed Shaikh, Ms. Wafa Pathan, Mr. Ebbad Qureshi, Ms. Donia Bughio, Mr. Ahsan Ansari and Mr. Ahsan Shaikh. Event was judged by highly profiled experts who assessed teams based on their vast experience.
More than seventy plus registrations were received from different provinces and their cities from Pakistan. After excessive rounds of shortlisting, only 23 teams were able to present their ideas in that final round. Participants' teams were from Isra University Hyderabad, Mehran University Jamshoro, Institute of Business Administration Sukkur, University of Sindh of Laar campus, Dadu campus, Hyderabad Campus, Cadit College Petaro, Behria University and PAF KIET.
Out of 23 teams, three teams were awarded with 1st, second and 3rd position. However, the other participants were certified by Prof. Dr. Hameedullah Kazi (PVC). Winning teams were awarded with cash prizes; 50000 PKR (first position), 30000 PKR (second position) and 2000 PKR (third position). Isra University entrepreneurial society invited winning teams to take part in closing symposium of Isra and Ball State university project event to get awarded with cash prizes in the month of April, 2017. It further announced that their establishing incubation centre will welcome innovative ideas of business to nurture there. Event was marked as a successful event for young entrepreneurs.